San Diego is a shopper's haven, ranked one of the top ten cities for shopping in the United States by Frommer's. With its beautiful weather, great boutiques, and unique stores, you can't go wrong with what San Diego has to offer.
You will find all kinds of stores from high-end to bargain prices in San Diego. As you know, it's an excellent tourist spot and there are many things to explore. So, you'd better bring more money for shopping because it is difficult to leave San Diego with only one pair of expensive shoes or handbags.
You can shop with your friends and family because the stores and malls here offer some discount rates and services to attract more guests. Before you leave home, you'd better read this article carefully to learn about the best places to shop in San Diego so that you can have a good time here.
What are The Best Shopping Malls in San Diego?
When you think of the best shopping mall in San Diego, Balboa Park, Fashion Valley Mall, Westfield UTC, and Westfield Mission Valley among others come to mind. These are the top shopping venues in San Diego, Calif.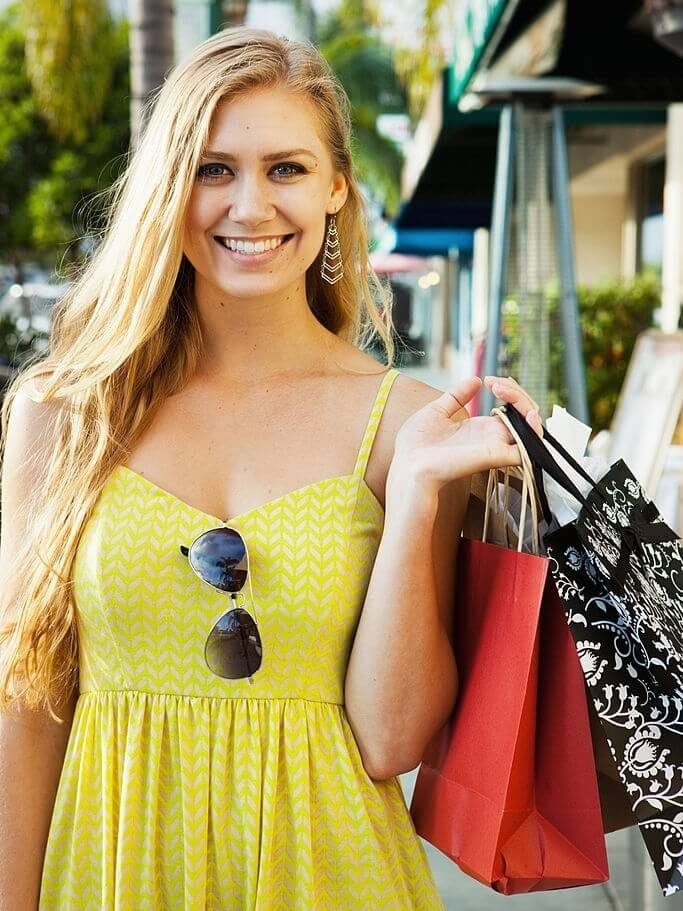 If you are looking for that perfect pair of jeans, a great pair of shoes, or want to pick up a modern-day antique, then these are the areas to visit. They have something for everyone and for every budget.
Also, Las Américas Premium Outlets or San Diego Factory Outlet Center is one of the most popular shopping centers in San Diego, with 125 stores that offer exclusive brands and where it is possible to have savings every day of up to 65%, compared to the regular price.
Outlet Stores in San Diego
The La Jolla San Diego Costa Verde Center outlet has more than 30 stores including the luxury supermarket chain Bristol Farms, the prestigious mattress brand Mattress Firm, the My Sister's Closet boutique, the men's clothing retailer Men's Wearhouse and Robere's Jewelry is an outlet for best shopping in San Diego.
To buy special foods and eat, in Costa Verde Center there are Chipotle, Apollonia Greek Bistro, California Keto, and Ki Sushi & Sake Bar.
Outlet Near San Diego, California, United States
The best outlet stores in Tijuana are close to San Diego. Among these is Factory Outlet 99, on Avenida Revolución, Colonia Centro, Tijuana. Resellers get good unit costs by buying in batches from Factory Outlet 99.
This outlet is very easy to access as it is on the most important avenue of Tijuana, with a wide variety of good quality clothing, shoes, and accessories for men and women, within fashion trends and at very convenient prices.
San Diego Stores: Clothing Sporting Goods
Fila store in San Diego: the well-known Korean brand Fila is present with the best offers in Bait (5th Avenue 92092101 San Diego) and in the main KOHL'S Department Stores (College Avenue 3450, 92115 San Diego; Balboa Avenue 5505, 92111 San Diego) ; and Mira Mesa Boulevard 8140, 92126 San Diego) is a good place to shop in San Diego.
Other prestigious brands of clothing and sporting goods available in San Diego malls and at good prices are Nike, Adidas, Asics, Puma, Under Armor, Reebok, Columbia, and Athleta. These are the best clothing consignment stores San Diego.
With a large variety of stores, there is something to fit everyone's taste. Enjoy the beautiful weather while shopping or taking a break at one of these amazing malls located all over San Diego.
List of best shopping malls in San Diego
Whether you're visiting for the first time, or already have lifetime roots in San Diego, we're sure you'll find our coordinates for the best places to shop in San Diego. 
There's a lot of unique shops to explore in San Diego, but here are some of our favorites. Let's meet a selection of the best places in San Diego that include clothing stores, footwear, accessories, galleries, jewelry, books, gourmet foods, and other specialties.
Here are San Diego best mall and shopping centers:
Little Italy in San Diego, California
There are lots of hip and cheap places to shop in San Diego, California. I recommend that you go to Little Italy first. It is a great place to get souvenirs for your family and friends. There are some shops that sell only water bath products, such as soaps and shampoos. The soaps look like cookies and candy bars!
Little Italy in San Diego, California has a variety of nice shops to shop. There are a couple of clothing stores, a bookstore, a bakery, and lots of other stores that have items that are great gifts and souvenirs.
If you like to shop trendy boutiques in San Diego, you'll love Little Italy. It is a hood brimming with trendy and best boutiques selling jewelry and clothes from emerging designers. It's no wonder that this neighborhood was voted 'Best Shopping District' by 10 News readers! It has all amenities required by today's travelers. And depending on your tastes, it doesn't disappoint when it comes to food either!
A neighborhood centered around an Italian Catholic Church, Little Italy is now a hot spot to shop locally.
Address: Neighborhood in San Diego, California
Fashion Valley San Diego (it's a shopping center)
Fashion Valley San Diego is a 150,000 m 2 shopping center visited annually by millions of people who live or travel in the southern United States, with more than 200 stores and exclusive restaurants. It is a destination for both retail and tourist shopping San Diego.
Stores and brands present include AX Armani Exchange, Athleta, Apple, 3DHQ, Abercrombie & Fitch, Banana Republic, Boss, Chanel, Charles Koll Jewellers, Chico's, Club Monaco, Build-A-Bear Workshop, Coach New York, The Container Store, Cotton On, Disney Store, Balenciaga, and Emporio Armani.
As for places to eat and drink, there are places like 59th & Lex Café, Better Buzz Coffee, Café Socrates, The Cheesecake Factory, and eBar at Nordstrom.
Its most popular restaurants are Bibigo Kitchen, Blanco Tacos + Tequila, California Pizza Kitchen, NoRTH Italia, PF Chang's China Bistro, So Sushi, Zodiac Restaurant at Neiman Marcus, and 59th & Lex.
Address: 7007 Friars Road, San Diego, CA 92108, United States.
Read Also: Top Fashion Schools in Los Angeles, California
Seaport Village, San Diego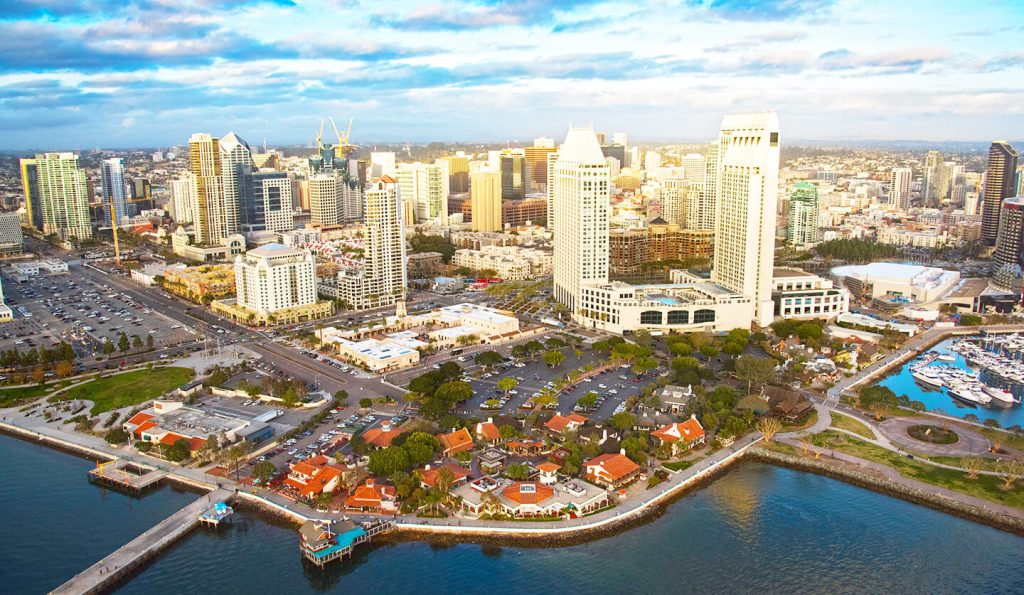 More than 50 stores and 13 restaurants endorse this open-air shopping center facing the Pacific Ocean, as one of the most seductive in the Californian city.
Its stores include the best brands in clothing for women, men, and children, accessories, swimsuits, and toys, as well as local food products, wine tasting, art, souvenirs, body care items, seasonal decorations, and lights.
Everything in the Harley-Davidson store is original, such as jackets, t-shirts, key chains, patches, glasses, and photos.
Seaport Village has its historic carousel with horses and other hand-carved pieces in the late 19th century. To eat, there are grills, seafood, Mexican cuisine, fast food, patisserie, and ice cream parlors.
Address: 849 W Harbor Dr, San Diego, CA 92101, United States.
Gaslamp Quarter shopping
Gaslamp Quarter shopping in San Diego, California is one of the most popular tourist shopping destinations in San Diego, CA. This area includes big name shopping venues, boutiques, and specialty shops. Most attractions are found in the Gaslamp Quarter including historic sites and exciting nightlife.
For those of you who are not familiar with San Diego, California, this is the finest shopping area in the city. For many people, it is what brings them to San Diego. There are over 300 stores and restaurants in the Gaslamp Quarter. This is one of my favorite areas since I can always find what I'm looking for and an enjoyable dining experience as well
Spanish Village Art Center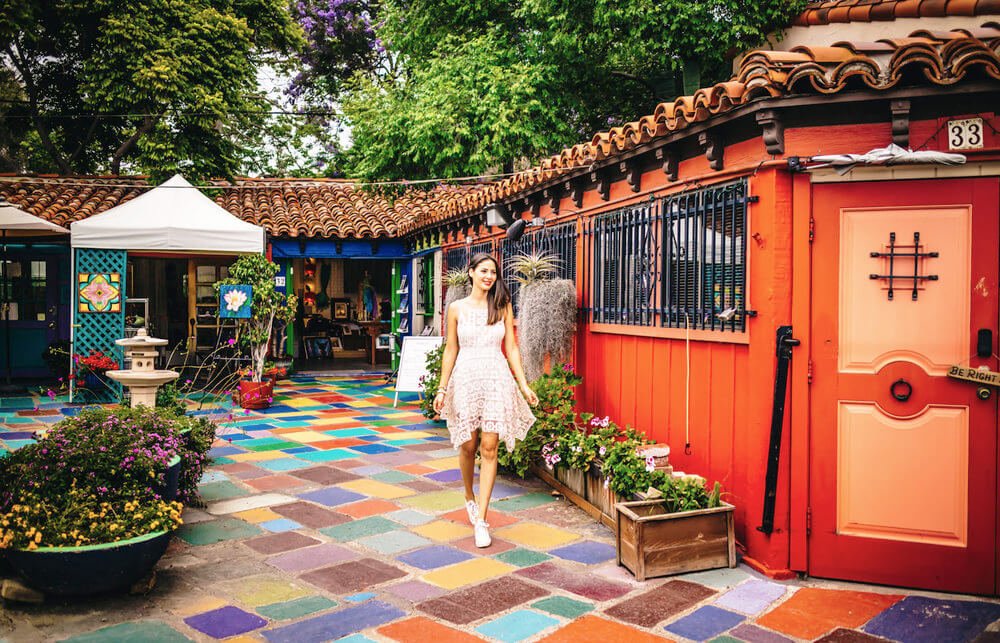 Spanish Village Art Center combines art with shopping and entertainment. It is in Balboa Park with the studios of more than 200 local artists who perform, exhibit, and sell their works in the art center.
You will be able to see the creators transforming the oils, canvases, stones, woods, metals, cardboard, and other materials, into handicrafts and works of art that they leave for sale.
The Spanish Village Art Center also offers courses in watercolor, ceramics, sculpture, potter's wheel turning, glazing, Chinese brush painting, totem pole building, glass blowing, stained glass, paint pouring, and polymer clay working techniques. In the area, there is a city observation tower and a botanical garden.
Address: 1770 Village Pl, San Diego, CA 92101, United States.
Horton Plaza stores
In San Diego, California there is a place where you will be able to find every store that you need when it comes to shopping. Horton Plaza has a lot to offer and some of the places you can shop are Banana Republic, American Girl Place, Michael Kors, American Apparel, Lucky Brand Jeans, Coach and so many more.
Horton Plaza is the best place to shop in San Diego, CA. Browse through stores like Banana Republic Factory Store, Coach, Gap Outlet, Nautica Factory Store, and many more. Horton Plaza is located in the center of Downtown San Diego on the corner of Front and Broadway Street. It is a great place to visit when you go to San Diego, California for its great shopping experience.
Address: Horton Plaza #207, San Diego, CA 92101
Warwick's
Founded in 1896, Warwick's is America's oldest family-owned and operated bookstore, selling gift items, jewelry, pens, leather goods, stationery, and office supplies in addition to books.
It is one of the few bookstores in the world that has been visited by best-selling writers and literary award winners.
It also maintains a regular program of events with authors such as the Chilean, Isabel Allende, the American, Alice Walker (Pulitzer winner with the novel The Color Purple), and the Malaysian of Chinese origin, Yangsze Choo.
Warwick's has bestsellers, classics, audiobooks, and autographed books, for its more than 150 annual signing events, in addition to the autographs stamped by the authors on their casual visits to the bookstore. The gift department has a wide selection of gifts made by local and branded artists and artisans.
Address: 7812 Girard Ave, La Jolla, CA 92037, United States.
Cedros Avenue Design District
Your list of best places to shop in San Diego, California is incomplete without Cedros Avenue Design District. This area is always buzzing with interesting unique shops, cafes, and restaurants. If you're looking for an eclectic souvenir or a cute gift, you'll know exactly where to go! It is my favorite place to point first-time visitors to San Diego. 
Cedros Avenue Design District is a place where high fashion, rest, and great food collide. Visit their beautiful shops, enjoy expert services and embrace the fact that life doesn't get better than this.
Discover Cedros Avenue Design District, a cluster of more than three hundred shops that sell home décor, apparel, jewelry, and one-of-a-kind items. Plan your trip with our helpful Travel Guide, which highlights the city's most popular hotels, restaurants, and visitor attractions.
Address: 315 S Cedros Ave, Solana Beach, CA 92075
Catalina Offshore Products
Catalina Offshore Products is a family owned and operated company that has been supplying local boaters with top quality marine products since 1977. Catalina Offshore Products is located on Harbor Island in San Diego, California, and serves both recreational boaters and commercial fishermen alike. 
Catalina Offshore Products is one of the best places to shop for marine products and best seafood in San Diego, California
The adventure began in 1977 when its owner, diver Dave Rudie, began selling sea urchins taken from the seagrass beds off the coast of California from his boat.
Rudie set up a small processing site to make local deliveries and then began exporting his products to Japan. Catalina Offshore Products is one of the largest suppliers of seafood in San Diego and is also one of the most important buyers of seafood.
The product list includes tuna (Maguro and Toro), yellowtail, caviar, roe, lobster, prawns, shrimp, crab, salmon, sea urchins, Premium fish fillets, sushi grade fish and sashimi, sauces, and special kitchen supplies. such as Oyster Knives, Shrimp Cleaners, Premium Sushi Rice, Sushi Seaweed Sheets, and Cedar Boards.
Address: 5202 Lovelock Street, San Diego, CA 92110, United States.
Carlsbad Premium Outlets
Carlsbad Premium Outlets has the best places to shop in San Diego, California. Shop major designer and brand name stores at every turn. You'll find factory-direct savings on top brands like Adidas, Banana Republic, Bebe, Coach, Gap, Nike, and Polo Ralph Lauren. Shopping at Carlsbad Premium Outlets is an easy way for you to find everything you need in a single day.
If you're traveling through San Diego, a visit to Carlsbad Premium Outlets is a must. With over 200 stores, this city shopping destination offers fantastic deals on top brands like Kate Spade, Nike, and Under Armour. Located about half an hour north of downtown San Diego and only 20 minutes from the coast, it's easy to get to by air, train or car. A trip here guarantees a great day of shopping.
Carlsbad Premium Outlets offers San Diego locals and visitors a one-stop-shop for all of your favorite brands, and many that you'll soon love. Find your fashions at up to 65% off in Carlsbad's outlet center, or choose from a wide selection of unique handcrafted goods, expertly-crafted furniture, and premium appliances at The Market, the area's premier shopping destination.
Address: 5620 Paseo Del Norte, Carlsbad, CA 92008
Harvest International Market
The Harvest International Market is a unique place near the center of downtown El Cajon. A Middle Eastern supermarket that specializes in
Harvest International Market is an International Market and Authentic Mediterranean Kitchen serving the greater El Cajon area. We are dedicated to providing only the finest authentic grocery items for our valued customers! See less
This store sells the best groceries from various parts of the world, thanks to its relationships with prestigious companies in Europe, Russia, the Middle East, and Iran.
Harvest International Market has 2 stores in San Diego County, one in Balboa San Diego, and one in El Cajon. The first of these is more geared towards Persian and Eastern European cuisine, while the second is designed for Middle Eastern cuisine. Both venues offer products and food from Mediterranean cuisine.
In each store, there is a kitchen that prepares daily dishes of their gastronomic specialties, dishes such as koobideh kabab, meat shawarma, chicken shawarma, chicken kabab, salmon kabab, meat tikka, chicken tikka, and biryani rice.
Address (Balboa): 4220 Balboa Ave, San Diego, CA 92117, United States.
Address (El Cajón): 733 E Main St, El Cajón, CA 92020, United States.
Address: 733 E Main St, El Cajon, CA 92020
Nordstrom Rack La Jolla
Nordstrom Rack is a place for the best shopping in La Jolla. These stores are good for saving money on clothing, footwear, handbags, beauty supplies, accessories, and decorative items. They have both the latest fashion trends and everyday products.
Some of the global brands are Calvin Klein, Adidas, Nike, and Joe's Jeans. Others also available are Zella, Madewell, Kate Spade, Cole Haan, Michael Kors, Marc Jacobs, Tory Burch, Max Studio, Vince Camuto, and Tommy Bahama.
In the women's clothing line there is a wide assortment of dresses, home clothes, blouses, blazers, tops, pants, coats, shorts, and mini shorts.
In the footwear department, there are classic sneakers, trendy sports shoes, platform shoes, sandals, and many other models.
The men's clothing sector exhibits pants, jeans, shirts, T-shirts, T-shirts, ties, jackets, blazers, scarves, and socks.
The sunglasses department has the seasonal designs and shades of the most prestigious brands.
Address: 8875 Villa La Jolla Dr, La Jolla, CA 92037, United States.
La Jolla Shopping
If you are looking for the best places to shop in San Diego, California, the La Jolla area should be at the top of your list. From ocean-view shopping to fine dining experiences that are hard to find elsewhere, San Diego's La Jolla area has it all.
The La Jolla area has a mix of shopping, entertainment, historic sites, and more to enjoy. There are several malls crammed with hundreds of shops and boutiques to explore in this popular destination. The shops offer leather handbags, jewelry, fine dining, and even art installations. You can also find great outdoor shopping or browse the shops along with the beachside stores – where you may find fresh seafood for dinner.
There are many boutique stores in La Jolla to discover such as Bella Boutique and Anthropologie that both offer clothing as well as accessories. Maybe a bit of romance is in order? Shop Francesca's Collections for evening gowns and trendy tops or check out Le Tote for women's clothing rental services. The neighborhood is also dotted with restaurants that offer everything from sushi to barbeque…
I recommended it as the best shopping mall downtown San Diego because The area is dense with boutiques, galleries, restaurants, and ocean views all within walking distance of each other.
Address: Neighborhood in San Diego County, California
Siete Stitches Jewelry
Jewelry in San Diego with handmade pieces such as bracelets, Pacha Mama bags, statement pieces, chokers, and limited editions of bracelets, necklaces, and earrings. One of its purposes is the empowerment of women, so the store donates 10% of its income for it.
The men's products include bracelets made of faceted onyx, faceted Dalmatian jasper, labradorite, turquoise and onyx, amazonite and onyx, commercial pearls, labradorite and silver, ebony wood and bone, onyx and pearls, ebony and pearls, and pearls knotted with silver fittings. The successful line of Pacha Mama bags includes pieces with pearls, tassels, and fringes, and charms.
In the women's bracelet series there are large pearl bracelets with skulls, large dark pearl bracelets, onyx, faceted Dalmatian jasper, vintage pearls and chain, light blue quartz and leather, jade and leather and ebony wood and opal.
Address: 2690 Historic Decatur Rd # 203, San Diego, CA 92106, United States.
Chuck Jones Gallery
These galleries represent the art of American pop culture since they were founded in 1977 by Linda Jones, daughter of the famous American cartoonist, screenwriter, animator, producer and director, Chuck Jones (1912-2002). His mission is to find works of art wherever they are found and bring them to collectors and interested individuals.
Its first location was Corona del Mar, where Chuck Jones lived. There are currently locations in Santa Fe, New Mexico, Orange, Costa Mesa, and the Gaslamp District, San Diego, California.
The galleries represent numerous artists and studios. They offer unique works of art to thousands of collectors in California, the United States, and the world.
Chuck Jones was a multi-talented artist who helped create popular cartoon characters like The Coyote and the Road Runner, Marvin the Martian, and Pepe Le Pew, during his fruitful work at Warner Brothers animation studios.
He won an Oscar in 1965 for the animated short, The Dot and the Line, and another honorary one in 1996 for his entire career. This fun stores in San Diego located in;
Address: 1980 Kettner Blvd, San Diego, CA 92101, United States.
Back to the Roots
It was born as a project of 2 university students who decided to cultivate mushrooms in the urban agriculture modality, evolving towards a concept of organic gardening with a series of kits to develop this activity in indoor environments and small spaces.
The Organic Mushroom Kit allows you to easily grow 3 varieties of mushrooms and harvest them in just 10 days. They are also a great gift to give people an organic and healthy lifestyle.
The package includes organic soil, a spray can, growing and harvesting instructions, and a cookbook. Another product of the store is the Water Garden, an aquaponics aquarium where fish waste fertilizes the plants on top.
The Back to the Roots product list also includes vegetables, herbs, planters, microgreens grow kits and lavender planters.
Address: 3318 Fifth Ave, San Diego, CA 92103, United States.
We Olive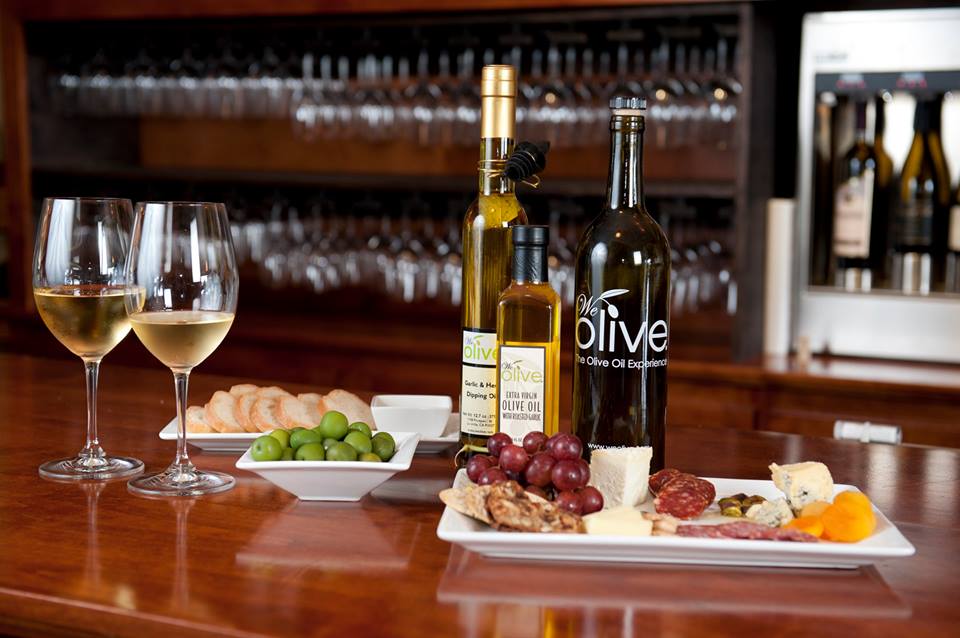 We Olive tops the shops in San Diego for the best extra virgin olive oil in California and to enjoy one of the most welcoming wine bars.
These stores are meeting places for producers, chefs, and visitors, to experience and learn about olive oil made in California, living an educational and culinary experience.
These oils offer an impressive range of flavors with notes of fruity, herbaceous, spicy (especially those made with early harvest olives), and bitter. Custom labeled bottles are priced based on size (from 2 to 25.36 fluid ounces).
In addition to olive oil, We Olive stores offer aged balsamic vinegar, gourmet foods (olives, almonds, artichokes, sauces), bottles engraved with beautiful motifs, gastronomy books, bar, and kitchen accessories, and gifts.
Address: 1158 Prospect St, La Jolla, San Diego, CA 92037, United States.
The Cave Store
Among the stores in San Diego, The Cave Store is the only one where you can buy a souvenir and at the same time enter an old and authentic smugglers' cave.
From La Jolla's oceanfront marine-themed gift shop, you can enter one of San Diego's coolest attractions: Sunny Jim's Cave. It is accessed through a dark tunnel and is the only Californian sea cave with an entrance through the land.
The tunnel was dug between 1902-1904 at the initiative of the German engineer, Gustav Schulz, while the name Sunny Jim was coined by the writer, Lyman Frank Baum, author of the famous children's novel, The Wizard of Oz.
Admission is $ 5 and $ 3 for adults and children, respectively. The access is managed by the same store and the prices of the souvenirs are good.
Address: 1325 Coast Blvd, La Jolla, CA 92037, United States.
Racine & Laramie Tobacconist
Founded in 1869, Racine & Laramie Tobacconist is one of America's most traditional stores for tobacco enthusiasts and the most famous in the city.
Its original headquarters were part of the group of 6 oldest buildings in San Diego, but a fire destroyed it in 1872. Fortunately, it could be faithfully rebuilt and furnished with the help of historical and photographic research.
The store remains a family-owned and operated business with exclusive products not available elsewhere in San Diego.
Racine & Laramie Tobacconist is also the only tobacco store in downtown San Diego fully endorsed by Tobacconist University, an organization that certifies tobacconists. It is also one of only 80 stores recognized in the world by the American Tobacco Association.
Address: 2737 San Diego Ave, San Diego, CA 92110, United States.
What to do in San Diego apart from shopping?
If you are wondering what to do in San Diego apart from shopping, you should know that this warm and hospitable Californian city has attractions such as Balboa Park, the largest urban park in the United States; the fascinating zoo (located in Balboa Park), the San Diego Zoo Safari Park, the SeaWorld San Diego and the USS Midway Museum that works on an aircraft carrier.
Other attractions in San Diego are the Cabrillo National Monument, La Jolla Cove, and the Old Town neighborhood, where you can appreciate what the Sandieguino lifestyle was like in the 19th century.
Final Words
San Diego, California may not be the biggest city in the United States, but that doesn't stop it from having some of the best places to shop. Shopping is a popular activity for many visitors to this seaside city as well as casual residents and is something you will find no shortage of. San Diego is a great city for shopping because there are options for everyone with tastes and budgets ranging far and wide.
Would you include other malls and stores on this San Diego best mall list? Share the information with your social media friends and invite them on a shopping tour of the best stores in San Diego.