Today, nobody is doing customer support the old-school way – over the phone. Nowadays, customer support usually sits on top of a multifeatured service and communication platform, where phone lines are just one of the channels. For businesses setting up their customer service, choosing the appropriate tool becomes one of the first challenges they need to resolve.
When you are just starting your research in this area, Zendesk is sure to pop up almost immediately. Of course, with more than 100 thousand companies using this platform, Zendesk is rightfully one of the leaders in this market sector. 
However, it might not necessarily suit everyone's needs due to a variety of reasons, therefore it's worth considering some of the best Zendesk alternatives. Setting up customer support is also a project in itself, and choosing the right platform is an essential step in project management. Read on for our top picks of customer service software.
Pros and cons of Zendesk, or why you may need Zendesk alternatives
Zendesk is more than a customer service tool – it's a complete CRM and customer support platform with multiple customizable features. It is often a go-to solution for enterprises for its significant benefits:
Multichannel support. With Zendesk, you can provide customer service over email, live chat, phone, and even on social media.
Advanced automation. Zendesk algorithms take care of many routine or repetitive tasks, such as ticket assignment, pre-programmed responses, or request routing, thus reducing manual work and lightening the load on the support team.
AI-powered features. Zendesk implements artificial intelligence to offer custom bots capable of almost human-like conversation.
Collision detection. Zendesk applies algorithms preventing agent work duplication by indicating that someone is already working on a particular ticket.
Self-service support. Zendesk includes knowledge base features, allowing you to provide customers with options of finding information on their own (which, is, by the way, the preferred method for as many as 40% of customers).
Advanced reporting and analytics. In Zendesk, you get a range of customizable dashboards providing you with insights about different aspects of your customer service status.
Seamless integration. Zendesk integrates smoothly with many third-party products, such as Salesforce, Mailchimp, Shopify, Google Analytics, and more, thus enabling you to connect it with the existing infrastructure easily.
Community forums. You can always find help and support among peer Zendesk users by joining a forum dedicated to discussing various platform-related issues and innovations.
At the same time, Zendesk has its cons, too, which are especially tangible for small businesses and startups, making them look for other options:
High cost. The pricing system of Zendesk may not be too budget-friendly, with the lowest plan for a complete suite charged at $55 per agent per month. You can get a "Support Team" plan for $19 per user per month, but the feature set for this price level is very limited. To get a wide range of features, you need to spring for a higher pricing plan.
Steep learning curve. For customer support agents, it may take some time to get started with Zendesk as it does not have what is considered an intuitive interface.
Customization complexity. While Zendesk supports advanced customization, many key features require developer skills to implement.
Limited social media integrations. Zendesk may be missing some integration features when you connect it to social media, which may be necessary for your social media campaign.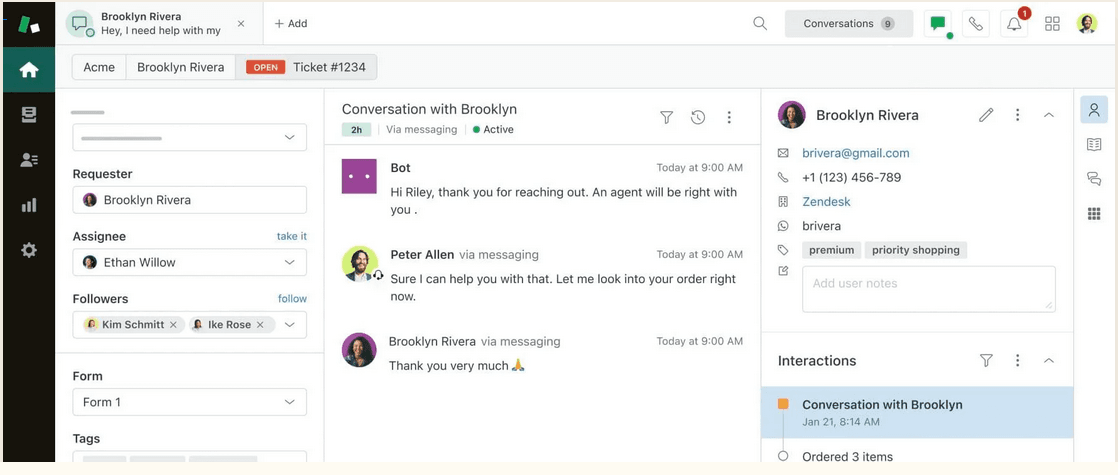 Best Zendesk alternatives for businesses
Here's our pick of help desk solutions that you might consider if you find Zendesk not suitable for your company. Compare their standard features and pricing structures to choose what suits you best. Your type of business will help you define your priorities – for eCommerce businesses, for example, you might focus on multi-channel support and live chat, for online education websites – on knowledge base features, and so on.
Of course, the list of not exhaustive, there are many more Zendesk alternatives to choose from.
Zoho Desk
Let's start with Zoho Desk – a set of customer service features on a single platform that can match Zendesk's global popularity. It features the same extensive functionality as Zendesk, thus being a prime candidate for a business customer service tool:
Omnichannel support. You can handle customer requests over multiple channels – email, instant messengers, telephony, social channels, or live chat – thus improving customer satisfaction by letting them use their favorite communication methods. 
Ticket management system. Zoho Desk supports handling customer inquiries through tickets that can be assigned and tracked. The tool includes an email ticketing feature that allows you to convert customer emails into support tickets. This feature adds effectiveness and transparency to customer service and provides data for analytics tools. The platform also includes a time tracking feature allowing you to evaluate the efficiency of your customer service.
Self-service options. With Zoho Desk, you can create a complete help center for customers to browse and find the information they need.
Automation. Zoho Desk adds automation to your workflows increasing the efficiency of your customer service.
What may tip the scales in your choice between Zendesk and Zoho Desk is the pricing. Zoho Desk has much more attractive pricing plans – starting from €14 per user per month with a free trial.
HubSpot
HubSpot represents a whole suite of products for every aspect of your business – sales, marketing, eCommerce, and customer service. HubSpot Service Hub can be your customer support portal with multiple useful features:
Multichannel communication. HubSpot gives you an opportunity to connect different channels to process customer queries – live chat, messengers, email, and VoIP calling. 
Knowledge base. You can use HubSpot to build a comprehensive knowledge base with a collection of articles in various formats – text, graphics, or video.
Team collaboration. HubSpot offers flexible collaboration options for your team to improve their productivity and efficiency – a shared inbox, an integrated customer relationship management system, and service insights.
Analytical and reporting features. In HubSpot, you can get a 360-degree view of your team's performance and the level of customer satisfaction measured through various KPIs, such as response time, first contact resolution rate, average resolution time, and others. Customer satisfaction surveys and various performance metrics provide a complete picture of how the support team is doing.
As for the pricing, HubSpot may be a bit steep for enterprises and larger teams (from $450 per month), however, it also supports pricing plans for small teams that start at $20 per month for two users.
HelpCrunch
HelpCrunch is specially designed as a customer service tool covering all the requirements of customer service teams with a set of robust features:
Omnichannel communication. HelpCrunch supports a variety of customer communication channels including email, live chat, instant messaging, and social media. You can add a chat widget directly to your website to enable a customizable chat feature for real-time customer service.
Chatbot. You can use HelpCrunch's custom chatbot builder to integrate a bot into your website for enhanced customer service. The chatbot can perform a variety of purposes – from support at various strategic points along the customer journey to customer feedback collection.
Third-party integrations. HelpCrunch connects smoothly with popular messengers, such as Slack or Viber, eCommerce platforms, such as Shopify or Magento, and others.
Self-service resources. HelpCrunch offers a knowledge base with a visual editor that allows you to write, edit, and publish articles for online help centers. It allows you to set up whole customer portals that users can browse at their leisure finding the information they need.
HelpCrunch has a quite friendly pricing system with a basic tier starting at $12 per user per month, which can be a decisive factor for small and medium businesses. You can take the tool for a test drive with a free 14-day trial, too.
Help Scout
Another popular name in the market of customer support software, Help Scout can be your all-in-one solution if you are looking for a comprehensive support platform for your business. Its functionality is specifically designed with customer communication and team collaboration in mind:
Multichannel support. Help Scout offers all the most popular types of customer interactions: email, live chat, and in-app messaging.
Collaboration features. Help Scout contributes to improving team productivity by providing task management functions, shared inboxes, group functions, and permission settings.
Third-party integrations. You can connect Help Scout to various tools and software products, such as Jira, Salesforce, or Google apps, thus integrating the customer service system into your existing environment.
Advanced automation. Help Scout supports the configuration of workflows for lots of functions to automate routine actions and accelerate business processes.
Help Scout offers rather reasonable pricing plans starting at $20 per user per month. However, the basic plan only includes a limited set of features, so for advanced functionality, you might need to consider higher pricing tiers.
Front
The last in our list of the best Zendesk alternatives, Front, places emphasis on effective customer communication. In fact, it is a huge unified inbox tool that routes messages coming in via multiple channels and enables collaboration on customer communication. Front supports a number of useful features:
Multichannel management. Communications coming in via email, SMS, chat, or social media channels are gathered in a shared team inbox allowing the agents to handle them efficiently.
Effective automation. Front supports automated categorization and assignment of incoming messages to ensure their quickest processing by qualified personnel.
Team collaboration. In Front, team members can communicate about their tasks and customer inquiries to share the necessary information.
Third-party integrations. Front connects with lots of external tools that can be used in customer service – messengers, social media, collaboration, and project management software.
Front's pricing system starts at $19 per seat per month, which is optimal for smaller teams and startups. However, this plan includes just the basic features, for extended functionality, you need to consider a higher tier, for example, $59 per seat per month.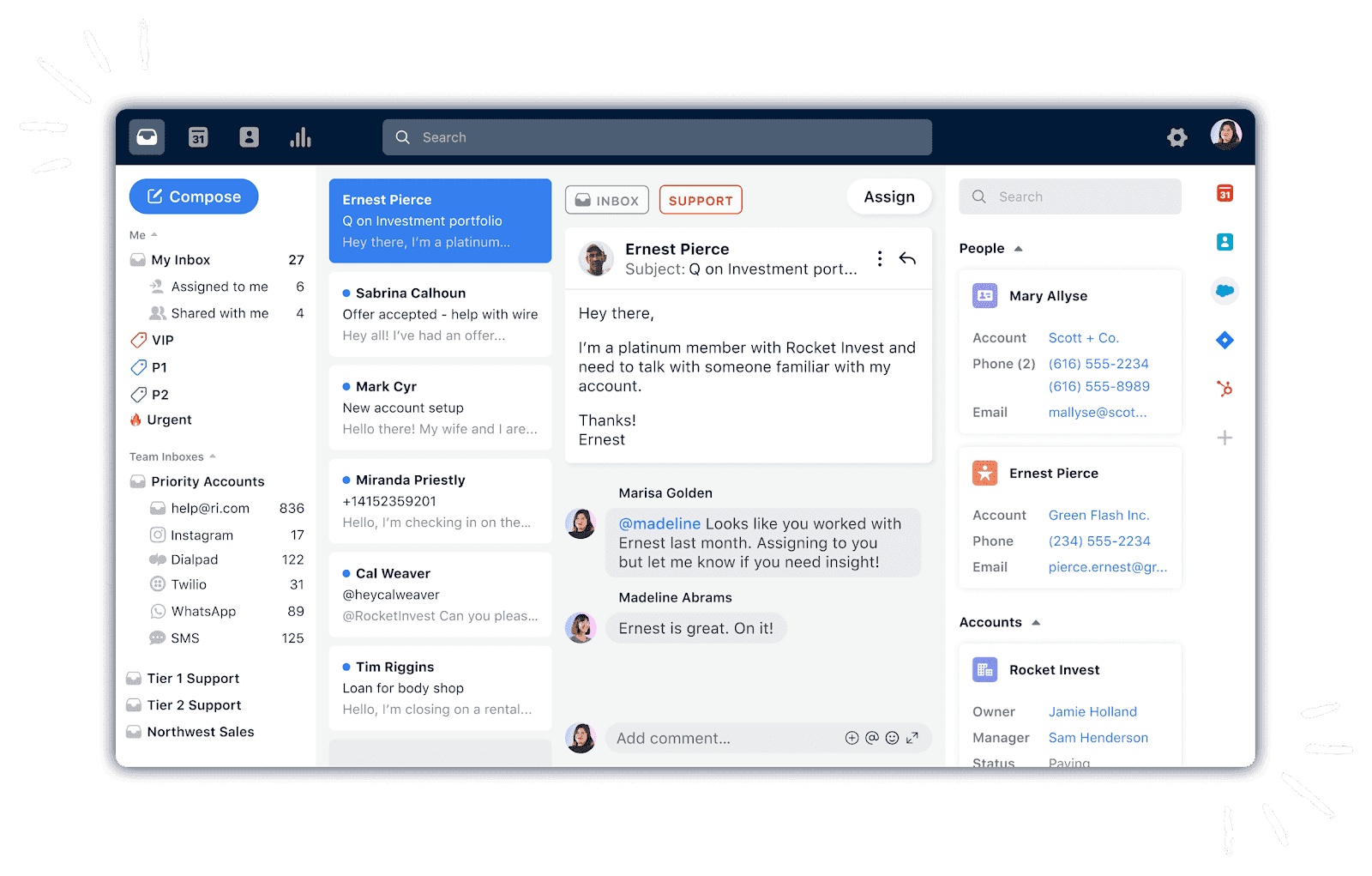 The choice is yours
The market of customer support tools is large and diverse. Start with defining the features that you would like to get, and you are sure to find the customer support solution that fits your requirements. We recommend taking advantage of the free trial option available for most of the tools to see if it actually suits you and your team. Hope our review of the most popular customer support software solutions can help you get started.