Are you considering getting a skincare consultation? If so, there are a few things you should know first. In this post, we'll give you some tips on what to expect and how to prepare for your appointment. We'll also discuss the different types of consultations available and what each one can do for your skin.
So, if you're thinking about booking a consultation, keep reading!
What Is a Skincare Consultation?
A skincare consultation is a meeting between a skincare specialist and a potential client. During the consultation, the skincare specialist will assess the client's skin type and needs and recommend a skincare plan that is tailored to the individual. 
Skincare consultations are typically conducted in person, but they can also be done over the phone or online. The consultation usually lasts for 30 minutes to an hour, and the skincare specialist will usually provide the client with a list of recommended products after the meeting.
Best Skincare Consultants in USA
There are many different companies and estheticians that offer personal skincare consultations. These are the most popular ones:
Med Spa Novuskin – Novuskin.com is a top-notch beauty medspa clinic that works with impressive experts. They host celebrity clients and offer some of the most unique and effective treatment options on the market.
Boston Dermatology – Boston Dermatology is another leading cosmetics and beauty company with dozens of satisfied clients. Their experts are always happy to consult with new clients to determine the best treatment options.
Rodan and Fields – This is one of the top-selling skincare brands in the US. It was created by Kathy Fields and Katie Rodan in 1995. They have thousands of consultants in the US, making them another great option.
Have a Look: List of Best Beauty Supply Store Near me – New York City
The importance of a Skin Consultation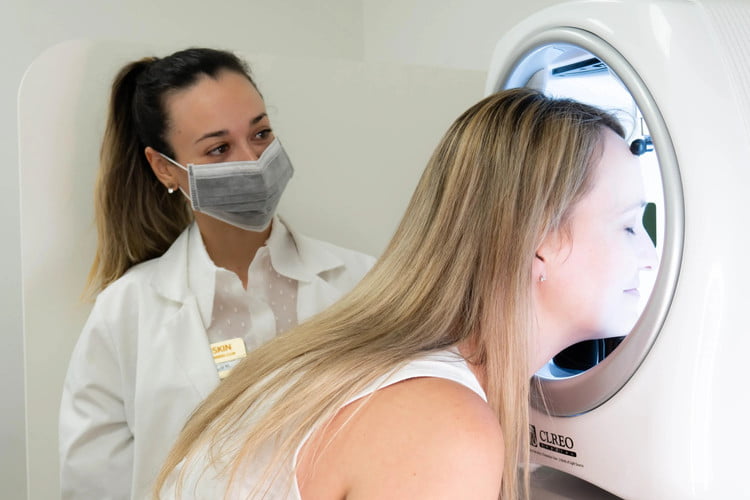 Consultants are imperative if you want to get any kind of facial and skin treatment. They will give you insight into what your skin needs and whether the professional you choose is able to concoct a suitable treatment that will help you deal with your skin condition.
Here are some other reasons why you should always get a consultation:
1. Learn more about your skin
There are many different types of skin and skin conditions, each of which come with its own set of requirements. A true professional will be able to diagnose your skin in order to proceed with treatment recommendations.
Moreover, if you learn more about your skin, you'll also be able to create a better home skincare routine. 
2. Find the best treatment options
With so many ads promoting different treatments, individuals often feel pressured into booking appointments. However, the thing is that different skin types and conditions require different treatments.
For example, you can't do regular acid-based facials if you have sensitive or super dry skin. Or, if you have oily skin, then certain products are more likely to clog your pores and cause a breakout. Consultations are a great way to discuss different treatment options with experts to find the routine that will give you healthy, glowing skin.
3. Find out the underlying reasons for your skin conditions
A wide variety of skin conditions is caused by genetics. For genetic-based conditions, there's not much you can do – it's in your DNA. However, sometimes, your skin is reacting badly because there are underlying causes like diseases or hormonal imbalances.
If that's the case, then you'll need a customized approach to treat the actual cause. There's no better way to find this out than working with professionals who have years of experience dealing with different skin issues.
How Long Does a Skin Consultation Take?
The answer depends on a few factors, including the complexity of your skincare concerns and the number of products that need to be tested. In general, a skincare consultation should take between 30 and 60 minutes. 
During this time, your skincare specialist will assess your skin type and condition, ask about your skincare goals, and recommend a customized skincare routine. They may also perform a patch test to check for irritants that cause contact dermatitis. 
If you have other complex skincare concerns, such as acne or rosacea, you may need more than one consultation to address your issues fully. But in most cases, a single consultation should give you all the information you need to get started on a healthy skincare routine.
What Does a Beauty Consultant Do?
A beauty consultant is primarily responsible for providing skincare and makeup consultations to clients. This involves assessing the client's skin type and providing recommendations on which products to use in order to achieve the desired results.
In some cases, the beauty consultant may also provide treatments such as facials or massages. By keeping up with the latest trends and product innovations, beauty consultants are able to provide their clients with the information they need to look their best.
What Skills Do You Need to be a Beauty Consultant?
The skills needed to be a beauty consultant vary, but most require knowledge of skincare products, makeup application, and skincare techniques.
Some beauty consultants work in retail stores, while others may work in spas, salons, or skincare clinics. Different job positions require different skillsets.
What Are Skincare Consultant Education Requirements?
Most beauty consultants receive on-the-job training, but some may need to complete a skincare certification program. Also, there are specialized esthetician undergraduate, post-graduate, and specialization courses which are always a plus. The more credentials you have, the more jobs you will be able to find.
In addition to skincare knowledge, beauty consultants should also be good communicators and have good people skills. They must be able to build relationships with clients and understand their needs in order to provide the best possible service. You can improve these skills by attending various customer service or client relationship management courses.
Where Can You Work as a Skincare Professional?
There are many different places where skincare professionals can find work. For example, some skincare professionals work in salons, providing skincare consultations and treatments to clients. Some work in plastic surgery clinics, while others have private businesses.
Others may work in spa resorts, helping guests to relax and rejuvenate with soothing skincare treatments. Additionally, they can also find work in hospitals or nursing homes, providing services to patients with special needs. No matter where skincare professionals choose to work, they can be sure that their skills will be in high demand.
Final Word
A skincare consultation is a great way to get tailored advice on how to achieve and maintain healthy, glowing skin. It is also an opportunity to ask any questions you have about skincare and learn more about the products and treatments available.
Whether you are new to skincare or looking for ways to improve your existing routine, a skincare consultation can help you achieve your goals.