Looking for authentic information about manufacturers in USA? 
Yeah, you are in the right place!
In this article, we've tried to make a list of manufacturing companies in USA by revenue and also added the top mfg companies primary information.
Also, we've added some commonly asked questions here and kept the initial information included.
Let's get started!
In the United States, Manufacturing is a vital sector.
America is the world's third largest manufacturer after China and the EU, with a record high real output in Q1 2018 of $2.00 trillion (i.e., adjusted for inflation in 2009 Dollars) well above the 2007 peak before the Great Recession of $1.95 trillion. 
USA manufacturing institutes employed 12.35 million people in December 2016 and 12.56 million in December 2017, an increase of 207,000 or 1.7%.
Though still a large part of the United States economy in Q1 2018 manufacturing companies contributed less to GDP than the 'Finance, insurance, real estate, rental, and leasing sector, 'Professional and business services sector, or the 'Government' sector.
Hence proved, there are the most successful manufacturing companies in America!
US manufacturing employment has been declining since the 1990s. But currently manufacturing sectors' output robustly recovered from the Great Recession.
Source-Wikipedia
What is manufacturing company?
A manufacturing company is a registered company that makes finished products from raw materials in a bid to make a profit. The goods are later distributed to wholesalers and retailers who then sell them to customers.
Manufacturing refers to the large-scale production of products that converts raw materials, parts, and components into finished goods using manual labor or machines. And produce more complex products, send to more manufacturers!
Then the question may come to your mind, what is the manufacturing companies working process?
Manufacturing businesses in today's world are normally comprised of machines, robots, computers, and humans that all work in a specific manner to create a product.
Manufacturing plants often use an assembly line, which is a process where a product is put together in sequence from one workstation to the next.
By moving the product down an assembly line, the finished good can be put together more quicker with less manual labor. It's important to note that some industries refer to the manufacturing process as fabrication.
Let's take a look at a few examples of manufacturing companies.
11 Top Manufacturing Companies in USA – Info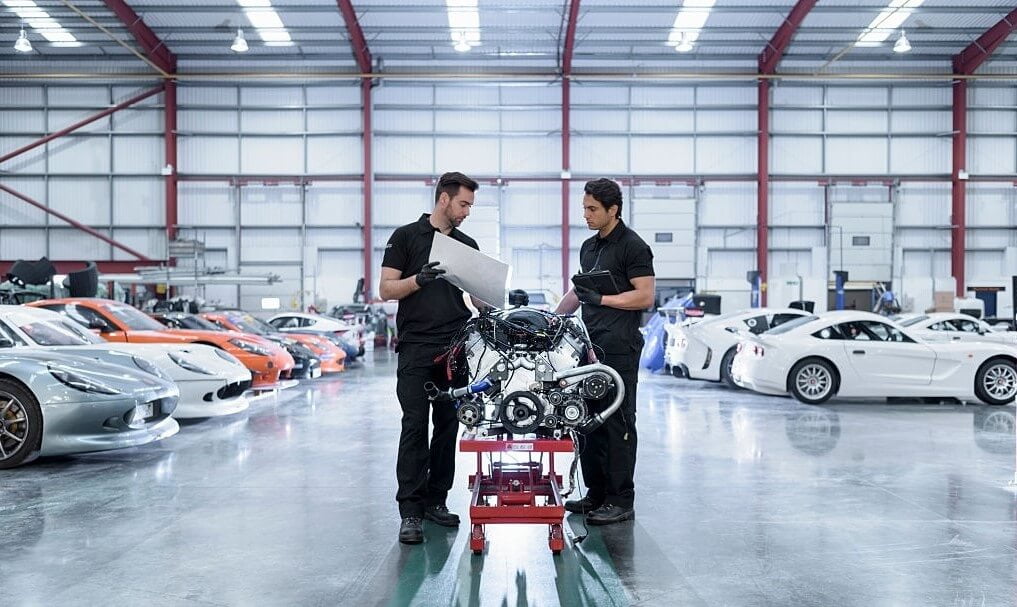 The United States manufacturing sector represents over 18% of the world's total goods every year, and these greatest contributions help to develop U.S. GDP and the overall economy.
So we did research on that and tried to gather information from these top rated websites like Wikipedia, Industry Week, The balance, The National Association of Manufacturers (NAM), and other sources.
Thus, we have seen that America has many reputed MFG companies than other countries.
In this section, we included the top 11 largest and most popular manufacturing companies in USA from the recent top company revenue list.
Here is the list of top manufacturing company in USA;
1. Apple Inc.
Apple Inc. is an American famous multinational technology company. It's headquartered in Cupertino, California. Apple company designs, develops, and sells consumer electronics, computer software, and online services. 
Apple was created in 1976 by Steve Jobs, Steve Wozniak, and Ronald Wayne.
This famous Californian technology company is considered one of the Big Five companies in the U.S. information technology industry, along with Amazon, Google, Microsoft, and Facebook.
Apple company has played a key role in the history of world technology.
Its hardware products include the iPhone smartphone, the iPad tablet computer, the Mac personal computer, the iPod portable media player, the Apple Watch smartwatch and etc.
2. Ford Motor Co.
The Ford Motor Company is an American multinational automaker company. Ford's main headquarters is in Dearborn, Michigan, a suburb of Detroit. (The first factory was the Ford factory in Michigan)
Ford Motor Company was founded by Henry Ford and incorporated on June 16, 1903. Henry Ford's aim was to make vehicles accessible to the general public ­­– to "put the world on wheels". 
The company sells automobiles and commercial vehicles under the Ford brand and most luxury cars under the Lincoln brand. 
This Motor company revolutionized the global automotive sector and manufacturing processes by mass producing its first car, the Ford Model T.
Ford also owns Brazilian SUV manufacturer Troller, an 8% stake in Aston Martin of the United Kingdom and a 32% stake in Jiangling Motors.
It also has joint ventures in China (Changan Ford), Taiwan (Ford Lio Ho), Thailand (AutoAlliance Thailand), Turkey (Ford Otosan), and Russia (Ford Sollers). 
The company is listed on the New York Stock Exchange and is controlled by the Ford family; they have minority ownership but the majority of the voting power.
3. Cardinal Health
Cardinal Health, Inc. is an American multinational healthcare services company and the 14th highest revenue generating company in the United States.
This company was founded by Robert D. Walter in 1971. After acquiring the Bailey Drug Company in 1979, it began wholesaling drugs as Cardinal Distribution, Incorporated.
Its headquarters are based in Dublin, Ohio, and Dublin, Ireland (EMEA).
Cardinal Health company specializes in the distribution of pharmaceuticals and medical products, serving more than 100,000 locations. It also manufactures medical and surgical products, including gloves, surgical apparel, and fluid management products. 
Cardinal Health provides medical products to over 75 percent of hospitals in the United States.
4. General Motors Co.
General Motors Company is the largest American automobile manufacturer and one of the world's largest automobile manufacturers. General Motors Company (GM) is an American multinational corporation it's designing, manufactures, markets, and distributes vehicles and vehicle parts, and sells financial services.
General Motor Company's global headquarter is in Detroit, Michigan. 
It was founded by William C. Durant on September 16, 1908, as a holding company, and the present entity was established in 2009 after its restructuring. 
General Motors manufactures vehicles in several countries; its four core automobile brands include Chevrolet, Buick, GMC, and Cadillac. 
It also either owns or holds a significant stake in foreign brands such as Wuling, Baojun, and Jiefang. General Motors' annual worldwide sales volume reached a milestone of 10 million vehicles in 2016.
5. General Electric Co.
General Electric Company (GE) is an American multinational company. This company operates through the following segments: aviation, healthcare, power, renewable energy, digital industry, additive manufacturing, and venture capital and finance.
It's incorporated in New York City and headquartered in Boston. This company's founders are: Thomas Edison, J. P. Morgan, Elihu Thomson, Charles A. Coffin, Edwin J. Houston
In 2019, GE ranked among the Fortune 500 as the 21st-largest firm in the United States by gross revenue.
6. Dell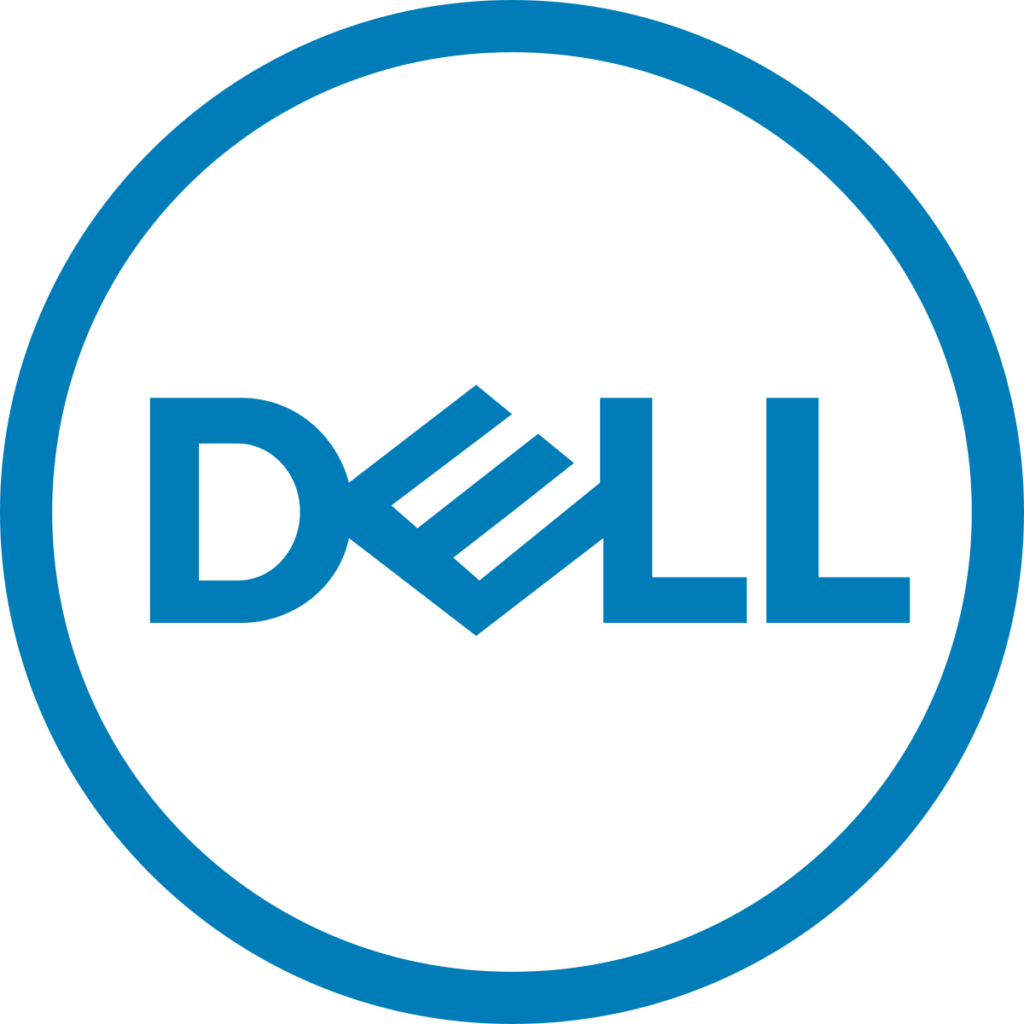 Dell is an American multinational computer technology company that manufactures, develops, sells, repairs, and supports computers and related products and services.
Dell originated in 1984 and its founder is Michael Dell. Its headquarters in Round Rock, TX.
Dell company is one of the largest technology corporations in the world, employing more than 165,000 people in the U.S. and around the world. It is one of the biggest PC product companies in the world.
7. Johnson & Johnson
Johnson & Johnson (J&J) is an American multinational corporation founded in 1886. Johnson & Johnson is one of the world's most valuable companies. J&J develops medical devices, pharmaceuticals, and consumer packaged goods.
Its common stock is a component of the Dow Jones Industrial Average and the company is ranked No. 37 on the 2018 Fortune 500 list of the largest United States corporations by total revenue. 
Johnson & Johnson is headquartered in New Brunswick, New Jersey, the consumer division being located in Skillman, New Jersey.
The corporation includes some 250 subsidiary companies with operations in 60 countries and products sold in over 175 countries.
8. IBM – United States
IBM – International Business Machines Corporation is an American multinational technology company. IBM is incorporated in New York by its founder Charles Ranlett Flint.
This company is headquartered in Armonk, New York, with operations in over 170 countries. 
The IBM company began in 1911, founded in Endicott, New York, as the Computing-Tabulating-Recording Company (CTR), and was renamed "International Business Machines" in 1924.
9. Boeing Co.
The Boeing Company is an American multinational corporation. Boeing is the biggest manufacturing exporter in the World. This company design manufactures and sells airplanes, rotorcraft, rockets, satellites, telecommunications equipment, and missiles worldwide.
Boeing was founded by William E. Boeing in Seattle, Washington on July 15, 1916. And now the Boeing Company has its corporate headquarters in Chicago, Illinois.
The company also provides leasing and product support services.
Boeing is among the largest global aerospace manufacturers; it is the second-largest defense contractor in the world based on 2018 revenue and is the largest exporter in the United States by dollar value.
Boeing's products and tailored services include commercial and military aircraft, satellites, weapons, and a diverse range of systems including electronic, defense, launch, advanced information, and communication systems.
It also offers performance-based logistics and training in 150 countries for airlines and U.S. government customers.
10. Intel
Intel Corporation is an American multinational corporation and technology company. It was founded on July 18, 1968 by semiconductor pioneers Robert Noyce and Gordon Moore.
Now it's headquartered in Santa Clara, California, in Silicon Valley. 
Intel is the world's largest and highest valued semiconductor chip manufacturer on the basis of revenue and is the developer of the x86 series of microprocessors, the processors found in most personal computers (PCs).
Intel supplies microprocessors for computer system manufacturers such as Lenovo, HP, and Dell. Intel also manufactures motherboard chipsets, network interface controllers and integrated circuits, flash memory, graphics chips, embedded processors, and other devices related to communications and computing.
Intel Corporation ranked No. 46 in the 2018 Fortune 500 list of the largest United States corporations by total revenue.
11. Procter & Gamble
The Procter & Gamble Company (P&G) is an American multinational consumer goods corporation company. This company was founded in 1837 by William Procter and James Gamble. Now P&G is headquartered in Cincinnati, Ohio.
It specializes in a wide range of personal health/consumer health, and personal care and hygiene products; these products are organized into several segments including Beauty; Grooming; Health Care; Fabric & Home Care; and Baby, Feminine, & Family Care. Before the sale of Pringles to Kellogg's, its product portfolio also included food, snacks, and beverages.
In 2014, P&G recorded $83.1 billion in sales. On August 1, 2014, P&G announced it was streamlining the company, dropping and selling off around 100 brands from its product portfolio in order to focus on the remaining 65 brands, which produced 95% of the company's profits.
In the US manufacturing represents 15% of its economic output, including automobiles, aerospace, machinery, and telecommunications.
Have look: Top 10 Highest Paying Professions in America
List of Top Manufacturing Companies in USA By Revenue
On the list of world manufacturing companies, there are many American companies at the top.
We have included the names of the companies according to the world ranking and also we've mentioned the names of the industries.
Below is a list of manufacturing company usa:
| | | | |
| --- | --- | --- | --- |
| World Rank | Company | Industry | Revenue (by US$ million) |
| 3 | Apple | Electronics | 260,174 |
| 7 | Ford | Automotive | 155,900 |
| 8 | Cardinal Health | Pharmaceuticals | 145,534 |
| 10 | General Motors | Automotive | 137,237 |
| 17 | General Electric | Engineering, various | 95,214 |
| 18 | Dell | Electronics | 92,154 |
| 28 | Johnson & Johnson | Personal care products | 82,059 |
| 35 | IBM | Engineering, various | 77,147 |
| 36 | Boeing | Aerospace & Defense | 76,559 |
| 39 | Intel | Electronics | 71,965 |
| 45 | Procter & Gamble | Consumer goods | 67,684 |
| 46 | PepsiCo | Food & Beverages | 67,161 |
| 49 | DowDuPont | Chemicals | 62,683* |
| 52 | United Technologies | Engineering, various | 59,837* |
| 53 | Lockheed Martin | Aerospace & Defense | 59,812 |
| 54 | Hewlett-Packard | Electronics | 58,756 |
| 60 | Caterpillar | Construction Equipment | 53,800 |
| 64 | Cisco Systems | Telecommunications equipment | 51,904 |
| 67 | Pfizer | Pharmaceuticals | 51,750 |
| 79 | Merck & Co. | Pharmaceuticals | 46,840 |
| 86 | Tyson Foods | Food & Beverages | 42,405 |
| 88 | Bunge Limited | Food, Beverages & Tabacco | 41,140 |
| 96 | Oracle Corporation | Electronics | 37,728 |
| 98 | Honeywell | Engineering, various | 36,709 |
Source: Wikipedia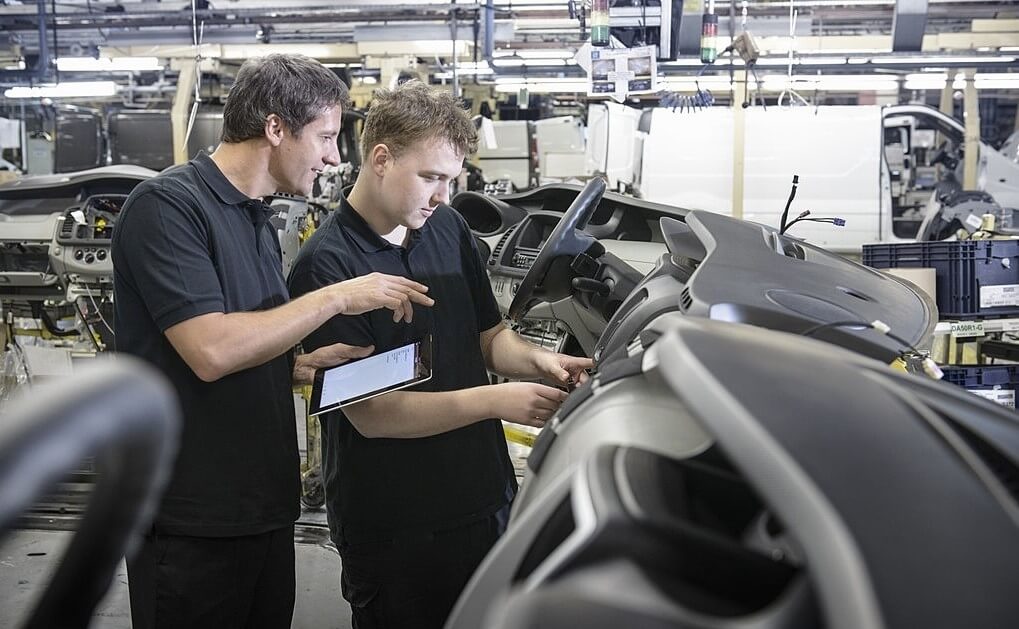 10 Top Manufacturing Companies In The World
Here is a list of the top 10 largest manufacturing companies in the world, ordered by revenues of several million US dollars, according to the Fortune Global report.
| | | | | |
| --- | --- | --- | --- | --- |
| Rank | Company | Industry | Revenue (by US$ million) | Headquarters |
| 1 | Volkswagen Group | Automotive | 282,760 | Germany |
| 2 | Toyota Group | Engineering, various | 265,172* | Japan |
| 3 | Apple | Electronics | 260,174 | United States |
| 4 | Samsung Electronics | Electronics, various | 197,705 | South Korea |
| 5 | Daimler | Automotive | 193,346 | Germany |
| 6 | Foxconn | Electronics | 172,869 | Taiwan |
| 7 | Ford | Automotive | 155,900 | United States |
| 8 | Cardinal Health | Pharmaceuticals | 145,534 | United States |
| 9 | Honda | Automotive | 137,332 | Japan |
| 10 | General Motors | Automotive | 137,237 | United States |
Source: Wikipedia
Types of Manufacturing Companies
Here are the different types of manufacturing companies and industries:
Automobiles and Transportation
Aerospace industry
Food processing, Beverage, and Tobacco
Consumer goods
Computer, Electronics, and Telecommunications
Electrical Equipment, Appliances, and Components
Chemicals, Plastics​, and Rubber
Petroleum and Coal
Steel and Metal
Textiles, Leather, and Apparel
Wood, Paper, and Printing
Furniture and Related Products
Miscellaneous Manufacturing
List of Manufacturing companies in USA – Big List
You might be looking for a manufacturer directory or company list in USA, I think this list will make your search easier. Here is the list of verified and well known manufacturers in USA;
List of USA manufacturing company;
A
ABB Motors and Mechanical
B
Barry-Wehmiller
Bisco industries
Bourbon & Boots
Braidy Industries
Bryant Grinder
C
CaptiveAire Systems
Cellink
Century Precision Optics
Clermont Steel Fabricators
D
E
Elemetal
Emeco
Explore Scientific
F
Fishman (company)
Flame-Spray Industries
Flowserve
The Ford Meter Box Company
Formlabs
Fort Howard Paper Company
Fusion3
G
Gauss Speaker Company
GlobalTap
Gunderson Inc.
Gunnar Optiks
H
House of Staunton
Hyatt Roller Bearing Company
Hycor Biomedical
I
International Filing Company
K
L
M
Mac Papers
Made In Space, Inc.
MagicSnow
Magid Glove & Safety
McCain, Inc.
Melrose Pyrotechnics
Merrick Machine Company
Midwest Manufacturing Company
Modern Meadow
Mueller Systems
Murray Corporation of America
N
National Radiator Company (USA)
Net Optics
NuWave
O
O.C. Tanner (company)
Offshore Spars
Okonite
Oneida Limited
Outlast Technologies
P
P. R. Mallory and Co Inc
Pacific Mercury
PENTAX Imaging Company
Permacel
Pewag group
Piclear
Plyboo
PolyVision (company)
Positronic (company)
Pyro Spectaculars
R
R. K. LeBlond Machine Tool Company
Rea Magnet Wire Company
Reynolds American
S
SafeRack
Screen Machine Industries
Shaffer (company)
Sioux Chief Manufacturing
Skilcraft
Solidoodle
Stillen
Stimpson (company)
Studebaker-Worthington
Superior Essex
SVP Worldwide
Swanson Industries
T
Taylor Forge Engineered Systems
Thermos LLC
Traffic Safety Store
V
VAE Nortrak North America
W
WearEver Cookware
Weeden Manufacturing
Wheels of Zeus
White-Westinghouse
Jacobsen Manufacturing
Worthington Mower Company
Z
Note: All of these manufacturing company names are listed by their name first characters. So, this list may not reflect any rankings.
FAQs
What is an example of a manufacturing company?
A manufacturing company is any business that uses components, parts, or raw materials to make a finished good. If I want to give a piece of an idea, the manufacturing company examples would be;
The Ford Motor Company
Ford is one of the largest U.S. based automakers and has been manufacturing vehicles on a large scale since the early 1900s. This company can easily make over five million cars in a single year!
These company assembly lines are a great visual for what a manufacturing company does.
How many manufacturing companies are in the United States?
In the company list in USA, there are 577,211 Manufacturing companies in the US Manufacturing industry as of 2021, a decline of -0.7% from 2020.
What are the major manufacturing industries in USA?
The major manufacturing industries in the United States include;
– Petroleum industry
– Steel industry
– Automobiles industry
– Aerospace industry
– Telecommunications industry
– Chemicals industry
– Electronics industry
– Food processing industry
– Consumer goods industry
– Lumber industry
– Mining industry
– and the Airplane manufacturing industry
Which States have the highest number of Manufacturing businesses in the United States?
These states in the United States have the largest number of manufacturing businesses;
– California (38,532,000,000 businesses)
– Texas (19,759,000,000 businesses)
– New York (15,963,000,000 businesses) 
And then other states.
Which country is the best manufacturing?
China is getting first place. Because China has the largest manufacturing industry.
The UN data shows China is the world's manufacturing powerhouse, followed by the United States and Japan. According to data published by the United Nations Statistics Division, China accounted for 28.4 percent of the global manufacturing output in 2018.
Which is the biggest company in the world?
American retail corporation Walmart has been the world's largest company by revenue since 2014. here are the world's largest 15 companies by consolidated 2020 revenue:
Rank
Name
Industry
Country
1
Walmart
Retail
United States
2
Sinopec Group
Oil and gas
China
3
Amazon
Retail
United States
4
State Grid
Electricity
China
5
China National Petroleum
Oil and gas
China
6
Royal Dutch Shell
Oil and gas
Netherlands
7
Saudi Aramco
Oil and gas
Saudi Arabia
8
Volkswagen
Automotive
Germany
9
BP
Oil and gas
United Kingdom
10
Toyota
Automotive
Japan
11
Apple
Electronics
United States
12
ExxonMobil
Oil and gas
United States
13
CVS Health
Healthcare
United States
14
Berkshire Hathaway
Financials
United States
15
UnitedHealth
Healthcare
United States
What are the 10 largest industries in the world?
In 2021, these industries are making the most revenue;
Health industry
Electronics industry
Car & Automobile Manufacturing industry
Oil & Gas Exploration & Production industry
Auto Parts & Accessories Manufacturing industry
Real Estate industry
Commercial Banks industry
Tourism. $1,541,0B. industry
Retail industry
And etc.
Hope this article helped you, let us know if you have any more queries!